The thrilling next segment in my ongoing live blogging of my book-in-progress, Branded to the Bone.
There's a sign in the headquarters of Patagonia Clothing in Ventura, California, that reads "Let my people go surfing." As directives to employees go, that's a little out of the ordinary. But it happens to be not just the title of a book by Patagonia's founder, Yvon Chouinard; it's also company policy. When the surf's up in Ventura, it's OK to leave the office. Of course, you're still responsible for your deadlines and commitments. But this is a company that means it when they say they want people to get outdoors.
A brand purpose is, in one important sense, about putting the customer first. It's about where you take their product and their brand, and where it takes you. So Patagonia's purpose as a company is to get you outdoors and into the wilderness, hiking, climbing or surfing. Southwest Airline's purpose (which we'll get to in a minute) is to make you free to move about the country. Apple's purpose is to give me what I need to be insanely great. And Nike's purpose is to get me out the door this morning for my run, because it makes me better, whether I feel like it today or not.
Each of these companies makes their brand about you. Each of these brands makes the work of their people — from the CEO to the important people like the janitor — about encouraging your to be my best. They make their brand about you, first, and themselves second. It's a powerful and compelling way to make a connection with their customers.
"Patagonia is a brand I've utterly been in a relationship with since I was a kid," says Lizzie Garrett Mettler, fashion journalist and author of Tomboy Style. "Really. I know that might sound weird or uncool or materialistic, but it's true. When the Patagonia catalogs would come in the mail and I would see photos of these rad girls surfing and kayaking and climbing mountains, I was truly inspired to travel and be adventurous and, well, be a tomboy." In a very real sense, Lizzie's whole career and life was inspired by Patagonia.
But Patagonia takes purpose one step further. They make it their purpose "to use business to inspire and implement solutions to the environmental crisis." They want to get you out in the surf and out in the mountains for your physical, mental and spiritual health. But they also want to get you out there to make you aware of the degrading environment and get you engaged in the idea of both changing your lifestyle and supporting environmental causes.
"I saw the relentless paving over of Southern California's remaining coastline and hillsides," remembers Chouinard in his memoir, Let My People Surf. "In Wyoming, where I spent summers for 30 years, I saw fewer wild animals each year, caught smaller fish, and suffered through weeks of debilitating, record-setting 90-degree heat. But most environmental devastation the eye doesn't see. I learned more by reading about the rapid loss of topsoil and groundwater, about the clear-cutting of tropical forests and the growing list of endangered plant and animal and bird species, and of people in the once pristine Arctic who are now being warned not to eat the local mammals and fish because of toxins from industrial nations."
It's one thing for a company to survey likely customers, learn what causes are important to them and then make a splash by donating money to those causes. That's a genuine way to share customers you share their values and interests—or at least to acknowledge their values. And Patagonia does contribute to environmental causes, earmarking one percent of sales or ten percent of pre-tax profits, whichever number is more. That's a substantial commitment to the public good and one that earns the trust and respect of their customers.
But Patagonia has made it their purpose as a business to work for the solution of environmental problems, starting with their own sustainability issues. They're in the water and on the mountains with their customers every day. They're also on the front lines of environmental action. On the one hand, these actions can hurt their bottom line. Using fabrics made of recycled materials can cost more and take longer, as does holding their factories and and suppliers around the world to the highest standards of human rights, sustainability and transparency. And, although, they could follow the lead of most other global corporations and shelter overseas income in tax havens, they don't.
"I might have looked for ways to defer taxes in the Cayman Islands," Patagonia's COO and CFO, Rose Marcario told the Wall Street Journal. "Here, we are proud to pay our fair share of taxes. It's a different philosophy. My life is more integrated with my work because I'm trying to stay true to the same values in both."
Is this a case of purpose taking a bite out of shareholder value? Probably not. Patagonia is a private company that brought in $414 million in revenue in 2011 and said they expected grow the top line in 2012 by 30 percent. They could easily grow to be a billion dollar company or more and they probably will. But, like Bluebell Creameries, they're in no hurry to get there. They're not interested in being the biggest. They just want to be the best, In Part 5, we'll look at what being the best means in terms of their payoff.
To paraphrase Charles Kettering, it may be that none of us is smart enough to start out with the purpose we end up with. When Chouinard started making pitons because the ones that were available to him in the 1950s were unsuitable for the kind of climbing he and his friends were doing in Yosemite. So he bought a little forge, learned blacksmithing and started making and selling his own. As the company grew, its purpose was to provide climbers and surfers with the right gear for their sports. Then it became to get more people outside enjoying the personal contact with nature that these sports provide. And then it was to save the world. Sometimes, purpose is forged in the trials of a company's early struggles. Southwest Airlines went hell in their first decade, and it was that hell in which their iron-clad purpose was formed.
In 1966, when Rollin King, a San Antonio air charter operator, told his lawyer, Herb Kelleher, that he thought there was an opportunity for an in-state airline, that's all it was. An idea for a few plane to fly between Houston, Dallas and San Antonio and make a few bucks. But as they got into the idea, they started to get pushback from other airlines. As soon as their application to fly was approved, Braniff Airlines, Continental and Texas International filed suit to stop them. The lawsuits and appeals went on for years. Sometimes, it was the lone Herb Kelleher before the judge, arguing their case against a dozen or more attorneys from the big airlines.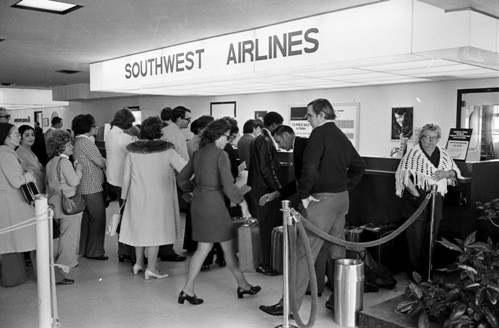 It took until 1971 before Southwest was finally able to get their first plane in the air and still the other airlines fought them, first over airport rights and then over the infamous Wright Amendment, a bill written by the majority leader of the United States House of Representatives that sought to limit Southwest Airlines from flying out of state from their Dallas hub at Love Field and that finally limited the airline to flights to contiguous states only.
A House bill to written simply to try to keep one company grounded.
And all those years of struggle—more than a decade before the other airlines stopped suing them for their friendly, low-cost business model—gave the airline a powerful purpose. First, their purpose was just to survive. But, as the battles wore on, the men and women of Southwest began to feel that they were fighting for the rights of ordinary Americans to enjoy affordable air travel.
They were literally fighting so their customers could be, as their ads now say, "Free to move about the country."
For Southwest employees, what was being done to them was wrong and violated everything America was supposed to stand for. The survival of their company became a cause worth fighting for and keeping their costs low so they could keep their fares affordable became their battle cry.
"The warrior mentality, the very fight to survive," former CEO Coleen Barrett told Kevin and Jackie Freiberg in Nuts!," is truly what created our culture." That culture holds today and amazes everyone. Not just in the airline business but in every business.
The story continues HERE.
Do you know a company that's really Branded to the Bone, with integrity of purpose that shows up at every touch point? I want to hear about it.