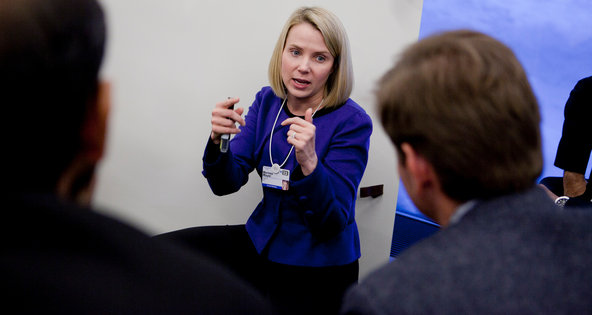 Yahoo's new CEO, Marissa Mayer, has shaken up the company with a memo announcing that as of this June, all remote workers will be required to start working out of the office. This has created a lot of comment today both from Yahoo employees and from industry observers. Many point out that remote workers are a growing trend and that Yahoo's move is regressive. And there's no doubt they're right: 32% of employees now rely on mobile devices and 38% say they feel most productive working from home.
But Marissa Mayer's job isn't to support demographic trends, it's to turn the company around. That will require a seismic shift Yahoo's culture. It will require a period of people being uncomfortable and a period of those who can't abide discomfort making room for those who can. It's not about being Draconian, for just being harsh and rigid will not make the company more innovative or productive, but it is to offer a challenge: let's get together and make a difference, let's make a new company that has a clear purpose and a clear culture, and let's do it fast, while we still have a company to do it with.
There are a lot of reasons that telecommuting makes sense (as the absurdly long infographic below from Mashable points out) and I can almost guarantee those reason will make sense in Yahoo's future and that they will have as active and productive a cadre of remote workers as anyone else does. But as San Francisco State University's commented in this article in the New York Times, "If you want innovation, then you need interaction. If you want productivity, then you want people working from home."
Without doubt, this will inconvenience some employees. Is it the right step to take? I don't have the benefit of a deep inside view of Yahoo and their culture so I don't know. But it's clear that the culture they have isn't working and hasn't been for several years. Marissa Mayer was hired to make it work and this may be one sign that she's willing to take unpopular steps that, if they work, will build the Yahoo of the future.
Let's hope it works.