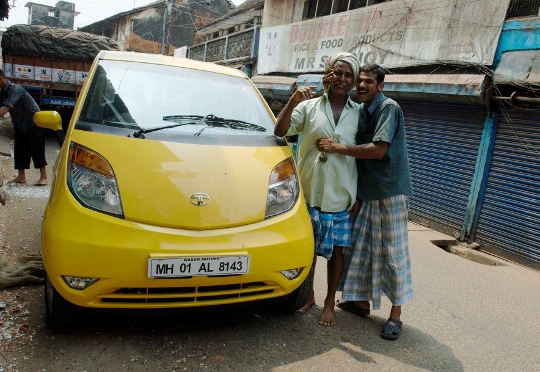 Denise Yohn interviews me about what went wrong with the Nano. Why have they only sold about 250,000 when everyone was predicting (including us) that they could sell twice that every year?
"Fast forward today, though, and the company has sold under 250,000 Nanos since deliveries began in 2009, and sales in March were off by 86% from a year earlier, according to a recent Bloomberg BusinessWeek article. The piece, entitled "Tata's Nano, the World's Cheapest Car, Is Sputtering," blamed the lackluster sales to the car being "too cheap—at least for consumers who don't want to be associated with a low-end ride." It explained that the company is planning to add improvements including innovative doors, automatic transmission, and a diesel engine to try to invigorate interest in the model. These moves would also increase the price to be comparable to rival cars."
You can read my comments on the matter. In 2008, "Nano" was the most searched word on Google. But in the end, the market voted with their feet and the Nano is an interesting device, like the Segway. Cool, no doubt, but who actually buys it? Well, the guy above did and he was pretty excited. But not enough guys like him put their money down.
But that's not to say that there were no payoffs for Tata. They were the most respected company in India and the Nano made them even more so. Most everyone admired what they did and why they did it. Employees were extremely proud of the project and Tata continues to be the employer of choice in India. What they learned about cost innovation has driven change behind the scenes throughout Tata and throughout the global auto industry. Tata Motors (and that includes Jaguar Land Rover) are the best in the business at cost and process innovation. It's no surprise that the just released Range Rover is 20% lighter than the previous model. And the Nano drove Suzuki out of the low end of the car market in India, where they had held monster market share for 25 years. So, while the results of the project were a disappointment, the company is a better company for having taken it on.