I feel like I need to post an essay on what I've been doing since my last post in July, other than putting on ten pounds and 30,000 air miles. Whatever it was, while it wasn't a vacation it was certainly one of the most interesting summers I've spent in a long while.
It started in the middle of July with a trip to Minneapolis to work with the top leaders in a hotel organization on defining what they want to stand for as a company. Developing a purpose statement is so fun and it was a great experience working with some very bright people.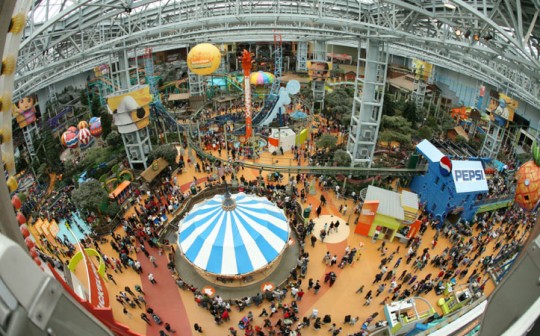 And I got the chance, for the first time, to walk around the world's biggest mall, The Mall of America, the ultimate example of a mall as a theme park. Then, after being completely ignored by a guy in a wine shop, I very happily left and took myself to dinner at the swank new Radisson Aqua hotel.
From there, I flew straight to Dallas for the Mayborn Literary Non-Fiction Conference, where I got to hang out with some of the best writers, thinkers, agents and publishers in the business.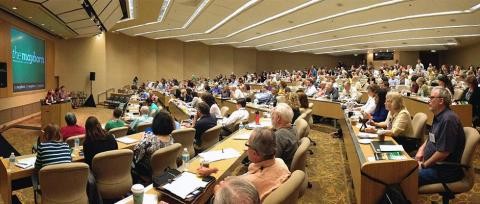 Listening to Hugh Aynesworth talk about the sunny November day he stood, as a young reporter, on the corner across from the Texas School Book Depository and became a witness to history as the President's motorcade drove past. His description of deciding to follow police cars across the river and finding himself in the theater as Lee Harvey Oswald was arrested is something I'll never forget. Also got to hear Susan Orleans (The Orchid Thief, Rin Tin Tin) talk about her writing process and how she researches books. And Jeff Guinn's description of writing his just released biography of Charles Manson (titled Manson) was riveting. A great event and I'm grateful to get to meet some of the industry experts I met.
Next up was conference for one of my favorite companies, CHRISTUS Health. They have hospitals and clinics all across Texas and surrounding states, Mexico and now Chile. We created a wonderful musical opening of video from people all around their system singing What The World Needs Now and ended with a kitchen sink production number with kids, choirs and a rock star singing a medley based on One Love. Yeah, I know, a love fest but nice work.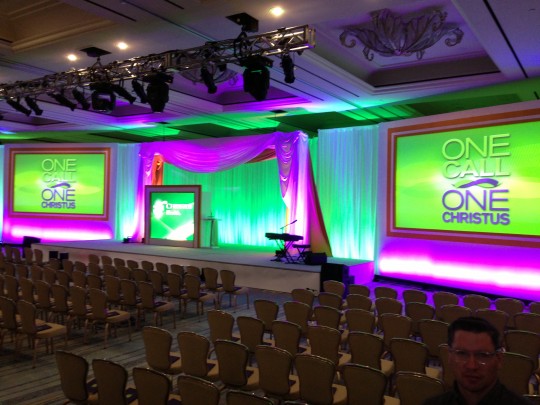 One thing I found particularly interesting was a panel hosted by Susan Dentzer of the Robert Wood Johnson Foundation and other healthcare analysts. I can't remember when I've heard the word 'unsustainable' used so honestly by people discussing their industry and their company. And I'm not sure I've every heard so much alignment between different voices and stakeholders in the health care debate. They all agree that the way things have been structured in U.S. healthcare could not be sustained had not the Affordable Care Act come along. They all agree that the changes will improve healthcare delivery. And they all agree that those who are unable to change will be unable to stay in business. There were a lot of interesting facts: the industry will move away from the current, unworkable fee-for-service model to a model everyone was calling "accountable care." Also, within the decade, hospitals as we know them will become dinosaurs and more and more patient care is moved to the home. We'll have "at-home ICU within the next few years." As several people pointed out, apart from the savings, when you ask people where they think they could recover faster (or die more pleasantly) they'll all tell you "at home."
The afternoon the conference ended, Jean picked me up at the Four Seasons Las Colinas in her truck and trailer and I became a roadie for two weeks, help her set up two folk art shows and an outsider art exhibition. The hours were long and the pay was mostly in wine, which was fine. Santa Fe was great, as always, like this sunset from the bar deck of Rancho Encantado.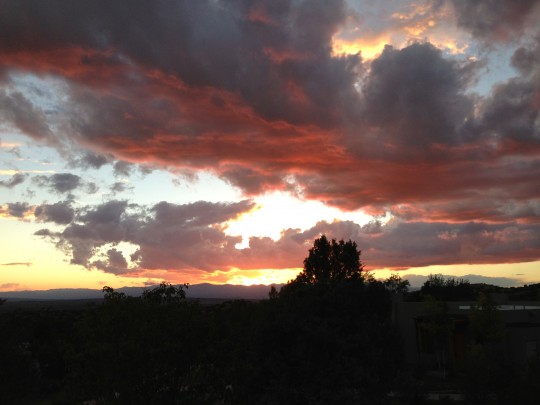 The outsider art was very interesting and very successful. Last year, Jean got a call from a picker who had been to an estate sale in Seattle. An old guy, described by dealers as "mildly retarded," had died and his house was being cleared out. On the driveway, the picker found several boxes of paintings, all unframed and thrown into boxes. Jean took on marketing it and has been curating the work ever since. She was invited to display the work at the Museo Cultural in the Railyard, as part of the Santa Fe Objects of Art show.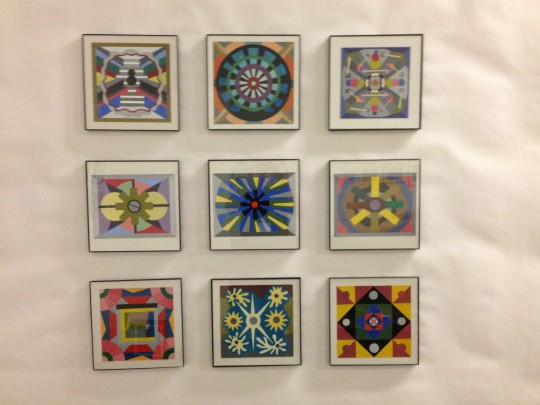 My part was hanging 140 painting, like the set above. Most of them are painted on cereal or kitty litter boxes. Local museum people and other painters were coming in constantly to see the work of Larry John Palsson and the comments were pretty amazing. Next stop for this show is the Los Angeles Art show in January.
While we were in Santa Fe, I got a call from the Jack Morton office in London asking if I could fly to Seoul, South Korea, for a week of speech coaching at Samsung. So we got home at 9:00 on a Thursday night and the next afternoon I was on my way to catch the midnight Korean Air flight out of Los Angeles. I fell asleep on the plane and woke up in Incheon Airport.

Seoul was amazing, really a beautiful city. I was very excited to get out and about and really wanted to experience Korea they way Koreans do. You know, go where they go, do what they do, and eat what they eat. After a while I had to accept that Koreans eat … pizza. Pretty much, it was like being in Los Angeles.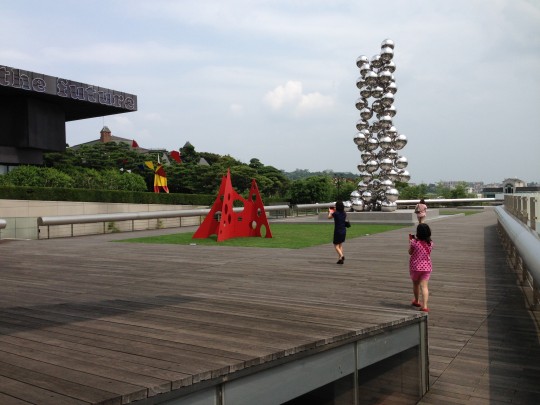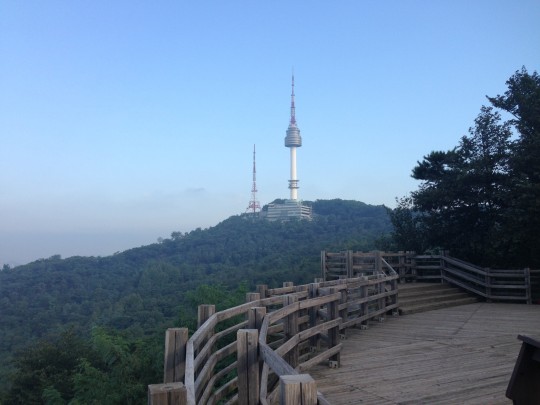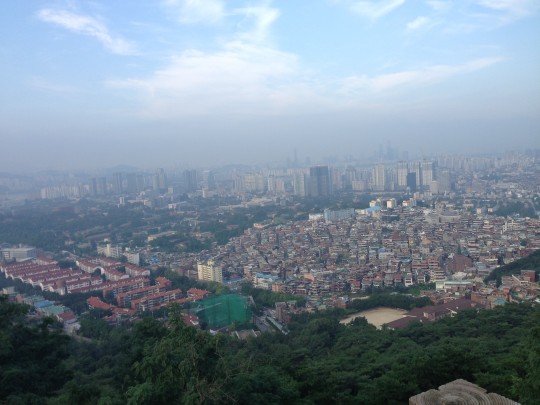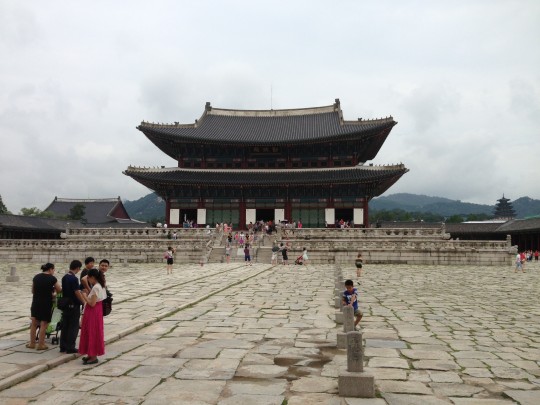 (Photos, top to bottom: The Samsung Art Museum in Itaewon; The Seoul Tower on top of the mountain in Namsun Park, Seoul's Central Park; the view from half way up; the Palace, rebuilt from rubble after the War.)
I had a great time working with some very bright people, particularly David Park, in Marketing, who was part of a huge product reveal in Berlin last week. We mostly worked at Samsung's ad agency, Cheil, where Soyoun Kim and Banya Kim (no relation, there are only about five last names in all of Korea) took care of me. When Banya found out there was an American writer in the house, he put me to work. Below, my friend David on stage in Berlin.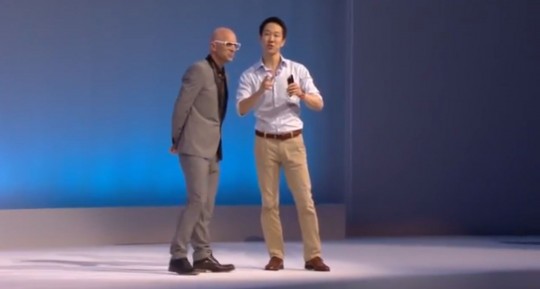 Had a great time running in Seoul every morning. Every day at dawn, I took off and tried to run to the top of Namsun Park. I don't think it's physically possible (there are parts so steep that people walk up backwards) but I ran the parts I could and then ran back down. And I finally got some great Korean food.
I got back to the States after a 15 hour flight and about two hours of sleep and then turned around and Jean and I flew to Bend, Oregon for my son Mic's wedding. We cooked dinner for 20 people our first night there, hung out with every single living relative I have, decorated the wedding pergola and then danced all night. Below, Mic and Molly share their vows. At bottom, Mic (center) at the final event, His and Her Rugby Teams.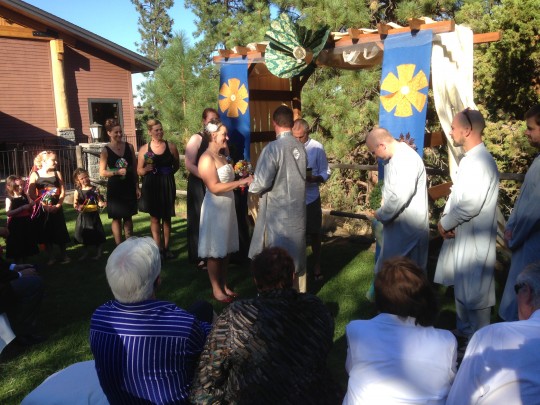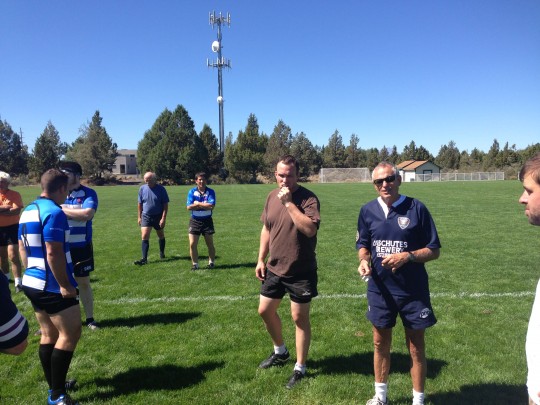 So it was a great summer and now I'm back in the saddle. But as my friend Phil Gerbyshak points out, if I'd kept up with my tweeting and blogging, I wouldn't have had to write this essay. And now you know what I did last summer.