The Henry J was the little American car that, well, couldn't.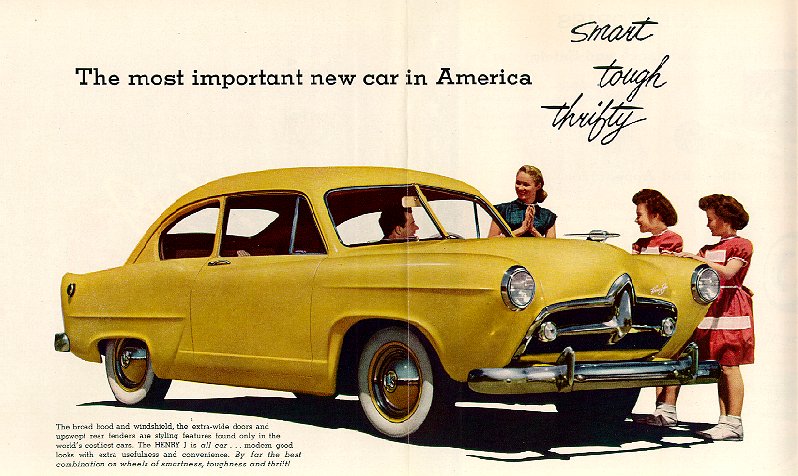 Conceived as post-war Model T, the Henry J was supposed to be a model of efficiency and low cost manufacturing. In a way, it shared many qualities with today's Nano. It was designed without a rear hatch, boot or trunk. Like the Nano, you accessed the storage area by folding down the rear seat. Like the Nano, it was remarkably fuel-efficient, delivering 30 miles to the gallon. No passenger mirror, glove box or sun visor, but plenty of room for a real family. And it was launched at a time when America supposedly needed a cheap, small car everyone could afford.
And it failed.
Why? Well, for a start, it was designed without a passion for the customer or with a real customer need in mind. In fact, it was part of a mandate from the U.S. government in return for a loan from the Reconstruction Finance Corp. Founded in 1945, Kaiser-Frazer was the only post-war U.S. manufacturer to survive even a few years of business. By 1949, they were desperate for funds to keep their doors open long enough for the economy to turn around or for the world to develop a taste for their, well, unusually styled products, whichever came first.
And so, to get their hands on the cash, they agreed to build a car that could seat five adults, cruise at 50 miles per hour and sell for $1300. And it had to be available for sale no later than September 30, 1950. That gave the company about a year to develop the car.
Kaiser engineers made it happen, but nobody much cared. The styling was odd and the limitations made the car unattractive. Chevrolet and Ford offered cars that didn't cost much more but were roomier and had "real" car features like rear windows that opened and a trunk lid. And while the Henry J was more efficient, gasoline was so cheap that it wasn't much of a selling point.
The Henry J was an apology car and everyone knew it.
It wasn't innovative. It was just cheap and embarrassing. Sales declined every year and by 1952, the company was reduced to selling them through the Sears catalog, rebadged as the Allstate. It was also sold in Japan for a few years by Mitsubishi. And then it was gone.
Ironically, in later years, it became a favorite with hot-rodders, who could pick up a used Henry J for next to nothing, drop a big V8 engine in it and drive it to the drag-strip, where the light frame and body made it a contender. And if it was fast, nobody much cared how it looked.
The legendary rock musician Frank Zappa, whose family was one of the few that bought one, remembered the misery of a cross-country trip on the rear bench seat of a Henry J. He called it "the ironing board from Hell." For struggling young families, the car may have been a necessity but it was far from being the mother of invention.