Whether you're trying to pitch your start-up business to investors or your new creative campaign to the C-Suite, you'll improve your chances of winning if you pitch like a screenwriter. Why? Because screenwriters don't pitch business plans, exit strategies or projections. They pitch stories.
Imagine you're a screenwriter trying to pitch an idea for a movie.
Let's say you've just read a book about a failed moon voyage and march into a producer's office. You can say: I just read this book about Apollo 13. A great story about a failed moon shot. I think it would make a super screenplay.
Or you can ask: What if three astronauts on the way to the moon had an explosion on board and you had to figure out how to get them back alive?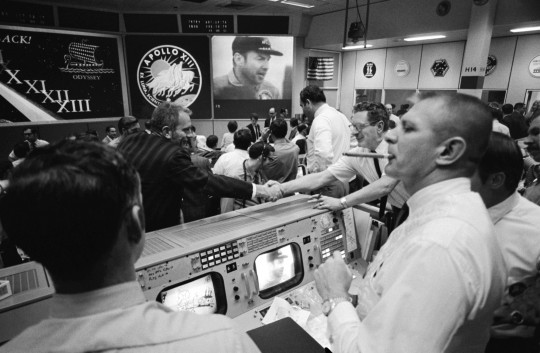 See how the second approach immediately involves you in a story? The "what if pitch" is designed to engage your listener in problem solving: "Wow, now that I think about it, how would you get them back?" If he's a movie producer, he's suddenly thinking plot, structure and visuals. She's thinking who could fill the role and be a great box office draw. You want to get their wheels turning, you want them to forget they're in their office for a moment and imagine problem solving in the Space Center. Once you've done that, you can start to walk them through the details of your story.
Pitching a business or technology innovation is no different from pitching a movie.

You want to get people interested and engaged in the solution you're offering. You also want them to begin to trust you. Why would they trust you? Because you've taken the role of a guide, leading them on a journey that they're enjoying.
Getting listeners involved in the creative problem solving is powerful, but it's nuanced. You can't present a complete blank slate. You have to have the idea and core solution well thought out. The assignment for the listener needs to be around polishing the idea and adapting it to fit their needs. A little like an architect, you want to design the structure but leave some of the interior decoration to the client. You want to get their creative juices flowing as they imagine their future within your construction.
That means you want to be more specific than, "What if there was a movie about NASA?" Sure, and what if I wash my hair with cream cheese? That's not a pitch. That's maybe the start of a brainstorming session. No one pays a million dollars for that.
Keep the focus on the creative result. And be careful not to turn it into a car salesman's pitch: What if I could get you into that new Range Rover for the same payments you have on your Honda? That's not a what-if pitch, that's a coercion. Your listeners can smell that all over you and they'll turn off in an instant. And once you lose their trust, that's the time to show yourself out.
A what-if pitch is in an invitation to dance.
Everyone wants to be involved in a story. The "what if pitch" turns them into co-creators. By framing your pitch as an invitation to imagine a journey, you turn your audience into your partners.