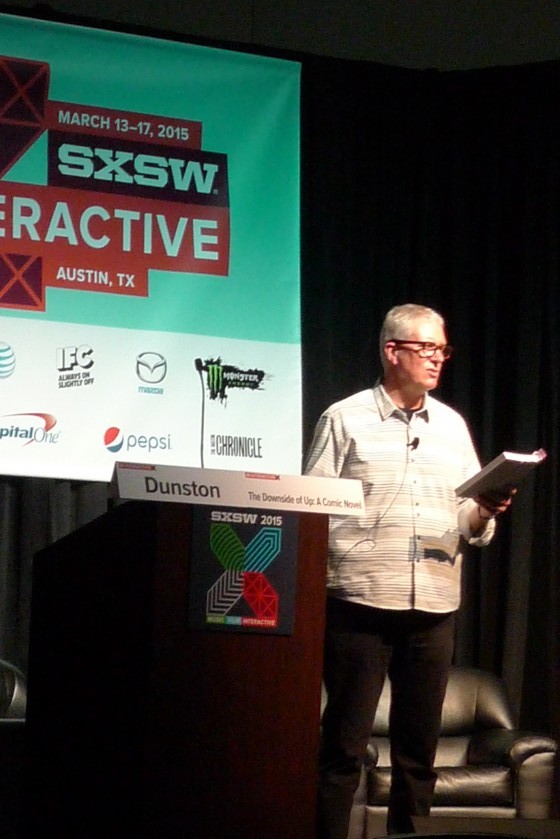 I had a great few days at SXSW meeting some fellow authors, listening to a few speakers and wandering around the exhibits. A funny moment was in the green room when I getting ready to go on stage and realized Daniel Pink was at the table next to me (obviously getting ready to get on a somewhat larger stage than me). I thought of saying something about how I liked his books and then suddenly couldn't think of any of his titles, let alone the one I'd read. It seemed weird to Google him when I was sitting with him, so I just went back to preparing for what I was going to say (Turns out Drive was the book I read). Another time, I was in a line when David Brooks walked by. That's part of the scene at SXSW. You never know who you're going to run into.
It can be exhausting just reading the schedule. There's so much to see and the events are spread all over downtown Austin. Most events have a line and the bigger ones have a long line, so you're not going to get to too many events. But that's OK, a lot of people are saying the point is not the sessions. The point is meeting people with like minds. And a lot of people seem to think the point is going from one corporate-hosted party to another all day and all night long. If that's your thing, well, good luck with that.
The corporate spend is insane, it seems to me. Companies buy out whole restaurants and brand them as Hootsuiteland or Samsung Studio. Like a very large trade show booth with loud music and drinks.
My friends from toddstreet in New York came down in a group of about five and I think that's the way to do it. Good team building, good networking, good way to run into clients. What doesn't work as well is to be local, like I am. I got up every morning planning to use the Gold Pass the organizers gave me as a speaker and then asked myself, "Do I want to do that or do I need to write a thousand words in the new book, finish those six scripts I promised and do my taxes?" And getting stuff done won out most days.
But what a great experience! Wouldn't trade it and I'm already working on a speaker proposal for next year. I'll let you know so you can vote on it if you like it. A big shout out to the SXSW team for running a conference and doing a great job (and for picking my book for a reading!)