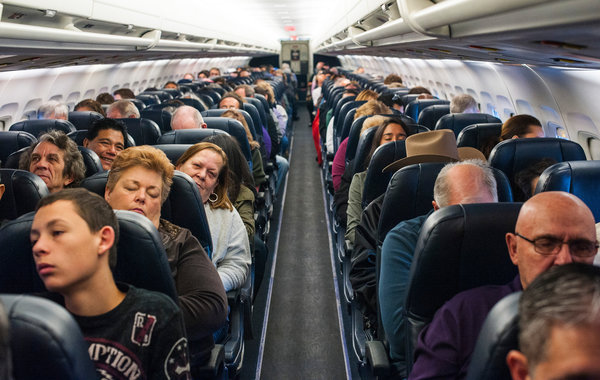 If you're traveling over the Holidays, I wish you luck and an intense level of acceptance of things beyond your control. If you're a very frequent flyer and the weather's not too bad, you may either have the chance to get an upgrade or you may have some good strategies to help you endure your three hours in the air. I personally favor what I call "the Junior Upgrade," which is the exit row window seat on the three seat side. I often fly with no one in the middle and there's a good deal more legroom than First Class (not that I turn down an upgrade when it's offered). And American, which I usually fly, now offers extra legroom seats in the first few rows of Coach which are plenty comfortable and available only to elite level frequent flyers.
But for most travelers, flying is getting worse, not better. According to the New York Times article today, airlines are working hard to fit more rows in the plane so they car raise revenues on each flight.
To gain a little more space, airlines are turning to a new generation of seats that use lighter materials and less padding, moving the magazine pocket above the tray table and even reducing or eliminating the recline in seats. Some are even reducing the number of galleys and bathrooms.

Southwest, the nation's largest domestic carrier, is installing seats with less cushion and thinner materials — a svelte model known in the business as "slim-line." It also is reducing the maximum recline to two inches from three. These new seats allow Southwest to add another row, or six seats, to every flight — and add $200 million a year in newfound revenue.
One result is that passengers are getting a little testy with each other.
On a flight from Washington to Frankfurt last year, Odysseas Papadimitriou, the chief executive of WalletHub.com, a personal finance social network, was challenged by a tall passenger seated behind him when he reclined his seat. "He was like, 'Hey, watch it, buddy. I don't fit here with you reclining the seat,' " he said.

Mr. Papadimitriou called the flight attendant to mediate the dispute and eventually tilted his seat back, but the price he paid to recline was a fitful night's sleep, as the other passenger grumbled and pushed against the back of his seat for the rest of the flight.
I really only know of one solution and that relates back to my opening comment about acceptance. If you're flying on coach in a terrible seat, you have two choices: you can rage about it or you can accept it and get on with your (somewhat cramped life). I have a process I call "getting small." I make sure I have water, some protein and something to read. Then I insert myself into the seat and imagine my 6'4″ frame shrinking to a kid's size and imagine my needs doing the same. Then I ignore everything else until I get to stand up again.
Or you can try comedy. I once was flying on an airline I on which I had no clout and as I approached the row where my middle seat was located, I saw to my dismay that I was seated between two 300 pound brothers, both wearing Oshkosh overalls. I saw I had only one option and I took it. I squeezed into place and started cracking jokes, making myself the ham in an 800 pound sandwich. Whatever works to lessen the pain.