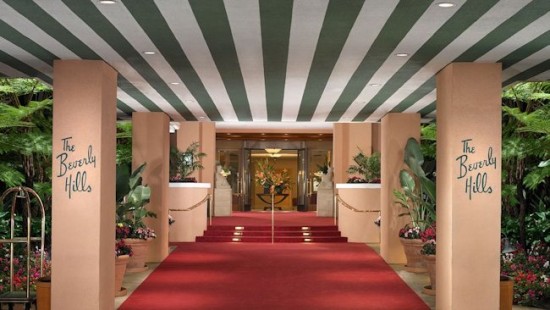 (Ongoing live-blogging my new book in progress.)
When the billionaire entertainment mogul, Sumner Redstone, hung up the phone in Bungalow 8 at the Beverly Hills Hotel, he was worried and he was pissed. Pissed, because a CEO he desperately wanted to recruit had turned down an invitation to come to talk to him; worried, because, in that month of May of 1997, the stock of Viacom, the giant entertainment conglomerate he had built up from a chain of drive-in theaters, was tanking. From a high of $63 a share, it had tumbled to less than $26 and everyone on Wall Street was blaming him. Blaming him for the performance of just one company in his empire.
Blockbuster.
The acquisition of Blockbuster Entertainment Group, in September of 1994, was supposed to be one of the jewels in the Viacom crown, the cash-rich ATM machine of a company that helped him acquire Paramount and cement his rightful place in the Hollywood firmament. Now, Wall Street analysts were saying that Blockbuster, for which he had paid $8.4 billion three years before, should be valued at zero.
Zero!
It was insane. It was galling. It was unfair, as far as Redstone could see. But the press was piling on in what he felt was a feeding frenzy of bad reporting and ill-will, all questioning his reason, his ability to lead and his advancing age.
How did it get so crazy?
When Redstone first thought about adding Blockbuster to the Viacom roster of acquisitions, it seemed a no-brainer. The company had a tremendous history, having grown from a single store in Dallas in 1985 to a regional chain of 19 stores when Florida trash mogul Wayne Huizenga took control in 1987. Just six years later, Huizenga and his team had grown Blockbuster into a, well, blockbuster success, with 3,200 stores in the United States and Europe.
Their growth was phenomenal. By 1989, they were opening a new store every 17 hours. In England, they opened 1,000 stores in just one year.
People were crazy for videos. The baby boomer generation had grown up sitting on the living room floor, staring at the test pattern and waiting for the three channels to start broadcasting at noon. They'd grown up dreaming of being able to show movies in their own house, free of commercial breaks, whenever and however they wanted. The video cassette recorder gave them that freedom.
By 1985, more than a quarter of U.S. households had VCRs hooked up to their televisions, and the number was rising fast. All they needed was a library of movies to dive into.
And then along came Blockbuster.
By 1986, there were 19,000 video stores across the country, mostly mom-and-pop stores with mom-and-pop attitudes and retail environments that ranged from seedy to smaltzy. There was a clear opportunity for someone to create a master brand—the McDonald's of video—and take control of the marketplace.
But it was not so obvious at the time.
When one of his business partners first suggested Huizenga look at investing in the fledgling Blockbuster chain, he thought the idea was ludicrous. He was being offered dozens of sweet deals a week. Video stores? Those sleazy shops with the porno movies in the corner? Gimme a break.
But his partner persisted and, when they were on a business trip to Chicago, he agreed to go look at a store.
Touring the Blockbuster store on Lombard Street in Chicago was a revelation to Huizenga. The blue and yellow décor, the clean, well-lighted aisles; the families with children browsing the shelves, looking for a movie to take home that night. And most impressive of all, people standing in lines ten deep, patiently waiting to check out a movie for a brand new American tradition: family movie night.
"Wow, what a difference!" Huizenga said to his colleagues. It was a phrase that became their advertising slogan and it was the focus of Blockbuster's business strategy through the rest of the Eighties and into the early '90s. There was a difference and it was enough to convince Huizenga to buy sixty percent of the company and take the reins.
Wayne Huizenga was not a guy who watched a lot of movies. He didn't own a VCR and would rather be making deals than sitting in a theater or in front of a TV screen. And he was not a guy who had much experience in retail. He'd never run stores. But, standing in that first store—and in subsequent visits to other Blockbuster stores—Huizenga had an insight that was to become fundamental to the success and also to the failure of the Blockbuster brand.
He saw that Blockbuster was in the entertainment business.
Those moms and dads standing in line with their kids were there in search of a vision of a future event: they saw themselves sitting happily on their sofas with their families while they watched a movie. They saw themselves having a night off, catching a movie they'd missed in the theaters or sharing an old favorite with their kids. Huizenga understood, as did David and Sandy Cook, the founders of Blockbuster, that selling an entertainment experience was fundamentally different from selling clothes or groceries or household goods. Entertainment tapped into something that was a fundamental human need, the need to immerse oneself in a story.
In the years that followed, when the company was clear that they were in the entertainment business, the company thrived. And in the periods when they decided they were in the retail business, the customers vanished.
The dynamic between those who believed Blockbuster was an entertainment company and those who believed it was a retail company was a tension that would follow the company throughout all the ups and downs of its history. And in the end, it was making the wrong call on this issue that finally doomed the company to bankruptcy.
If there is a central theme to this story, a guiding principal, an "author's message," this is it: Know what business you are in.
After merging Blockbuster into the Viacom empire and discovering there was no place for him in Redstone's world, Wayne Huizenga had taken his marbles and gone home to Florida. He left a very able lieutenant behind, Steve Berrard, who had largely run the company through the growth period, but it was a temporary solution and uncomfortable for both Berrard and Redstone. Within a year, Berrard knew he had to move on and Redstone knew he had to get his own man in the driver's seat.
So, in the fall of 1995 Redstone prepared to move Berrard out and ordered a search for a new leader for Blockbuster. He wanted the best man he could find. And, tragically, he decided he wanted a "retailer."
In March of 1996, Redstone announced the appointment of one of the pre-eminent big box retailers in America to run Blockbuster: Bill Fields, then the number two man at Wal-Mart. Fields had been recruited out of college by Sam Walton himself and was said to be, in many ways, more like Sam's son than Rob Walton was. He had learned the Wal-Mart system from the bottom up, almost by rote. But he was passed over for the top job at Wal-Mart and he believed David Glass, Sam's successor, was not about to move over (in fact he did, just four years later). For Fields, the chance to make his mark as a CEO may have looked like a good choice. And for Redstone, the opportunity looked equally golden.
Bill Fields didn't ask questions when he arrived. He didn't make a lot of changes in the first few months as he built his own leadership team. Behind closed doors, they spent six months developing a new strategy for Blockbuster. It was based around the idea of maximizing sales per square foot in each store, turning them into merchandising machines offering everything one could associate with the entertainment experience. They would sell videos, not just rent them. They would sell you the popcorn and Coke to eat and drink while you watched and they would sell you t-shirts and even jeans to wear while you watched them.
Field's team launched a new marketing campaign, closely tied to the company's new direction, and unveiled the somewhat confusing slogan, "One World, One Word: Blockbuster." The Kansas City ad agency, Bernstein-Rein was behind the new campaign. Led by legendary ad man, Bob Bernstein, the company had pioneered advertising for MacDonald's and Wal-Mart, inventing the "Happy Meal" and Wal-Mart's "Made in America" campaign. They also had been a big part of Blockbuster's history, coming on board in 1988 to develop the brilliant, "Make It A Blockbuster Night" campaign, which helped define the brand and the customer experience. They had lost the Blockbuster account in 1993 but, because of their relationship with Wal-Mart (the only ad agency Bill Fields had ever worked with at that time) they were back.
In press releases, Fields explained the campaign this way: "We're evolving to be the one-stop, convenient neighborhood source for the newest and latest entertainment goods and services for everyone in the family, whether they want to rent or buy movies, listen to music, read books and magazines, play video and computer games, surf the Net, purchase entertainment related toys and apparel, or just want to tear into a snack and a soda pop."
The idea was to consolidate Blockbuster's video and music stores into one general entertainment retailing brand, a sort of 7-11 of the mind, a convenience store for amusement options, a one-stop shop for things you might take home as an alternative to cable TV. He didn't say it, but Fields might have added the ultimate roadside attraction: "Clean Restrooms."
Customers hated the new direction and voted with their feet and their wallets. They rejected the confusing marketing campaign and started walking out of stores empty handed. Not only weren't they buying the "entertainment convenience store" concept, they weren't even renting movies. By December of 1996, just eight months after he took the job, it was clear that Fields' his ideas weren't working. He told Redstone he wanted out.
It couldn't have come at a worse time for Redstone and Viacom and, as he put the phone down in Bungalow 8 of the Beverly Hills Hotel and stared out the window, he would have been thinking about the disaster Blockbuster had become. In January, they had taken a $100 million charge off to pre-tax earnings; in February, they had announced store closures; March they announced that EBITDA was down 15 to 20% compared to a year earlier and that they were cutting back future store openings. Analysts reading between the lines decided Redstone was trying to get debt down and the stock price up in anticipation of a sale.
It took just 13 months for the CEO Redstone had hired to drive the company to the brink of failure and for Redstone and Viacom to drop from Wall Street darlings to the laughing stock of the business press. Redstone had to be wondering what had gone so terribly wrong.
Here's the irony: five years before – almost to the month, Wayne Huizenga had trumpeted to the world the triumphant appointment of Joe Baczko, then the number two man at Toys R Us, to be the President and COO of Blockbuster. And what had Baczko done? He had boldly announced that, from that day forward all the problems of Blockbuster would be solved by turning the company into a retailing powerhouse and merchandising their way to success.
Sound familiar?
He also told everyone who was there before him to shut up. He didn't want to hear anything they had to say.
It took Baczko 23 months to fail, having refused to listen to anyone in the company and having gone through 12 vice-presidents and having watched customers turn their backs on Blockbuster. On the Monday morning following the announcement of Baczko's resignation, Wayne Huizenga called a company meeting and announced, in no uncertain terms, that Blockbuster was a not and never would be a retail company.
"We're an entertainment company," he told the troops, "and we always will be."
And here's another irony: ten years and two months after a frustrated Sumner Redstone put down that phone, the Blockbuster board would write the final act of the Blockbuster story and turn it irreversibly into a tragedy by installing another "retailer" as CEO. That retailer – who never knew and never asked about the two historic failures before him – would announce to the world that Blockbuster was a retail company—a 7-Eleven of the mind—and would send the company spiraling into bankruptcy, losing virtually all its stock value in just 18 months. Three times, Blockbuster lost the plot and installed leaders who fundamentally misunderstood the business the company was in. Three times, the company collapsed in a matter of months. And the third time, it couldn't recover.
Read the next segment here.
If you've got a story of a company that's branded to the bone, let me know!