Recently, the Financial Times ran an article by the Scottish novelist Andrew O'Hagan about novelists and the other art forms to which they feel drawn. Norman Mailer felt he could be a good actor; Vladimir Nabokov loved capturing and displaying his collection of butterflies; and Henry James loved to paint. O'Hagan believes that a passion for a second art can influence the novelist's work on a deep level (consider James' novel The Portrait of a Lady) and also provide a key to help readers more fully understand their work. O'Hagan notes that the novelists he knows never light up so fully as when they're talking about their second art.
My "second art" is clearly design. My wife, Jean Compton, is a dealer of American folk art and outsider art and I am her willing assistant when she takes her travelling gallery on the road to shows. We arrive in Santa Fe each August, for instance, with a truck and trailer loaded with items as diverse as a handmade child's rocking settle from the 1850s, a Navajo doll from the 1920s, a painting done by a man in a mental institute in the 1950s and a collection of wood carvings done by an untrained African American artist in the 1970s—carvings of birds remembered from his childhood in the woods and swamps of Louisiana. With this collection, we have a day or a day and a half to create a physical gallery display in a public hall filled with other dealers.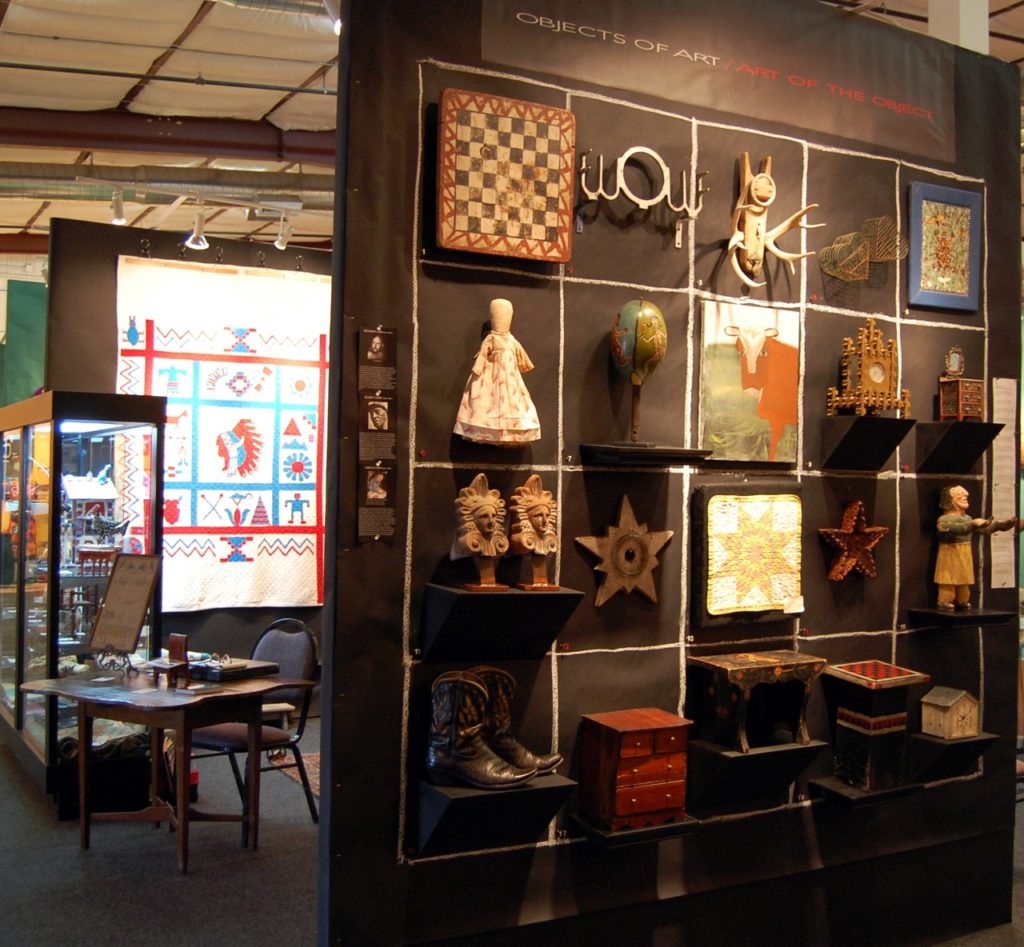 Three walls usually define the space we're given. It's not unlike a stage: in fact, it's exactly like a stage and it's no surprise that Jean did her graduate work in stage design or that I spent my career designing large corporate spectacles for sales and employee meetings. The idea of creating a clearly focused space out of a larger, unformed space is something that comes naturally to both of us. Coming into a giant hotel ballroom in Las Vegas or Orlando and watching a crew erect, in physical space, a stage and set that had until that day existed only in my mind and the minds of my colleagues is an exciting and satisfying experience. Once, a producer stood in the middle of a ballroom with an artist's rendering of the staging, a drawing that had been created months before. "Look," he showed me, as the lighting designer adjusted his lights, "it looks exactly like you said it would." Even more satisfying was the time we created a temporary set in an Arizona hotel. The set appeared to be a sandstone arch from the Utah desert and a visitor mistook it for a permanent theatrical proscenium.
My first job in creating the temporary gallery space is usually setting up the lighting. If the walls describe the space, the lighting defines it; it gives the "stage" a sense of place. Because we have to work fast, there's nothing fancy. Mostly, spotlights designed for a drawing table on extendable arms. We arrange those along the tops of the walls to create pools of light, particularly in the corners and in the center of each wall, where the most important items are placed.
Jean has usually spent a good deal of time designing the arrangement of items in the space. My job is to hang the art that goes on the walls or to arrange the furnishings or art objects that stand on pedestals. Sometimes, I'm able to channel my inner architect by designing display pieces, creating drawings I take to a metal shop in Comfort, Texas. They make suggestions about ways to improve the design and then, a week later, the object I designed is ready to be picked up.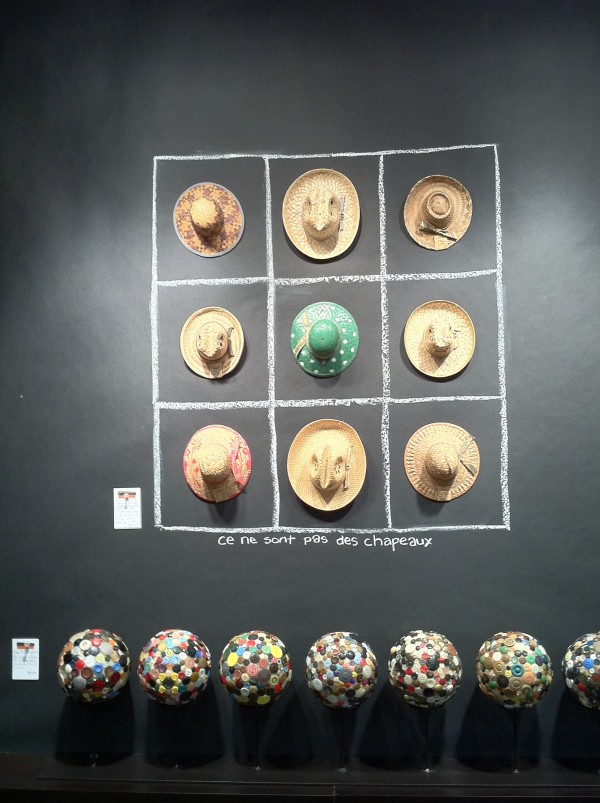 Sometimes, I'm called upon to create an arrangement of objects, such as this collection of salesman sample hats from the 1940s. When Jean found a collection of antique buttons that a woman had glued to foam balls, I designed a stand—basically as set of oversized iron 'golf tees' on a length of flat steel—on which they can be displayed. We turn found objects into modern art.
Over the last year, I've been working on a series of dry stone walls that will eventually reach from our house to the road and give definition to the entry experience. There's something cool about creating a wall that will last, like all such stone walls, for hundreds of years.There's something magical about designing space and I have no doubt I could be just as happy being an architect or, probably even better, designing and building spec homes and art spaces. Don't think I haven't considered dropping my corporate work and doing just that. There's a ten-acre lot down the hill from us that I've walked from time to time and on which I've designed a breathtaking modernist home with views of the western horizon from a stone terrace shaded by a line of small live oak trees. Yours for less than $750,000.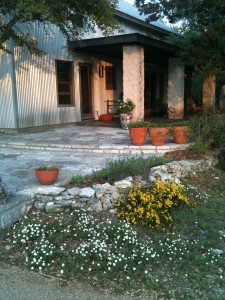 Jean and I designed—with the help of an architect—the home in which we live. And three times, we've designed expansions of this home. Originally conceived of as a mother-in-law house near a larger main house, then as a weekend getaway house, it's a little small for our needs. We were nearly ready to start construction on one house plan when the markets (and the business of corporate meetings) collapsed in 2008. Then in 2012, we created a much better and more practical design and were just about to pull the trigger when, once again, the corporate production business stalled. Maybe it is time to reconsider the idea of going into the home building business.
How this work informs my writing is clear, at least to me: when I'm writing a story, I'm imagining the space in which the characters live and move. One comment I've gotten on my new novel, The Downside of Up, is that it's cinematic, filled with visual imagery that makes it easy to imagine the book as a movie. It's just the way my mind works. When I'm telling a story, whether in a novel or a business book, I'm setting a scene; a stage on which real or imagined characters will strut their stuff, with all their sound and fury.
Ernest Hemingway considered bull fighting to be an art form and spoke about the idea that a writer should approach his work the way a toreador approaches a bull. Mailer felt he inhabited his characters the way an actor would and that, in doing so, he was able to imagine them in greater depth. And it's interesting to note how many actors—from Paul Newman and Steve McQueen to Patrick Dempsey—have made sports car racing their second art. Maybe there's something to being on the edge of physical control at high speed that helps them take risks as actors. I've always admired painters who could create a work and hang it on the wall, something you can't really do with a piece of writing. And I've often wished I had musical talent. I like the idea of getting together with friends after a day of solitude with my keyboard and using a different kind of keyboard to fill a honky tonk with blues piano. But mostly, I'd like to design that honky tonk, from the sign out front to the stage in the back. And maybe I will design one, if only as the setting for a story.