Coca-Cola just announced a global partnership to provide clean drinking water and Internet kiosks in as many as 20 countries in the next two years.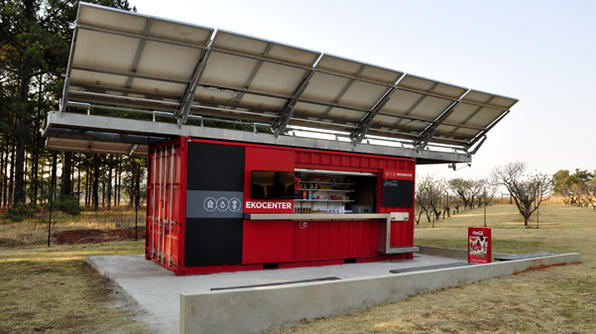 Today, we are announcing that we will place between 1,500 and 2,000 units in the form of EKOCENTERs, "downtowns in a box," or SlingshotTM water purification systems to deliver further services beyond clean water, in Africa, Asia, Latin America and North America by the end of 2015. Each EKOCENTER will offer a locally tailored mix of products, services and resources that may include safe drinking water, sustainable energy, wireless communications, refrigerated vaccination storage, health education, and other functionality to jump-start entrepreneurship opportunities and community development. Through this commitment, we aim to deliver 500 million liters of safe drinking water, while promoting greater local development in communities that need it most.
There's a lot of evidence that simple kiosks like this can make a big difference with poor communiities outside their countries' economic infrastructures. Interestingly, I had a long conversation with my friend Steve Soltis at Coke last winter about this solar-powered, water-distilling billboard in a slum outside Lima, Peru. Beyond just being a great thing for a company to do, for a company that sells water and beverages, it seems to be a great brand building investment.