Archive for September, 2013
A great article in the current issue of Foreign Policy on the massive global expansion of the Johnnie Walker brand, as expressed in this beautiful TV spot for the Mexican market.

Johnnie Walker. Keep Walking Mexico from Brixton Films on Vimeo.
After nearly 20 years of financial setbacks, the middle class in Mexico is thriving. Discretionary income is up, migration is at net zero, they've been upgraded by Standard & Poors and they're starting to be taken seriously in the bond market. And what brand expresses that upward mobility perfectly? Johnnie Walker and their "Keep Walking, Mexico" tag line.
And in Africa, the newest gold mine of emerging markets, Diageo is cultivating a fresh generation of whisky drinkers. In downtown Nairobi, a 20-story billboard of the Striding Man towers alongside a skyscraper. African musicians and athletes have been named "brand ambassadors," and premium magazines are running a series of print ads that say simply: "Step Up." As in, step up to a better life, step up to the middle class, step up from that stale beer to a higher state of being: Become a whisky drinker. The print advertisement hawks Red Label, the brand's cheapest distillation (a favorite of Winston Churchill, with soda) and the presumptive first step in Johnnie Walker's color-coded upward journey through Black, Green, and Gold labels toward that nirvana of prestige: Blue Label.

The campaign seems to be working. Johnnie Walker sales are up 38 percent in East Africa and 33 percent in South Africa, and Diageo is doubling down, investing $368 million to expand operations in Nigeria, Africa's biggest market.
This is a classic example of experience marketing, where you appeal to the population's aspirational values by giving them the chance to express themselves by what they drink. And Johnny Walker delivers. Of course, the product has to deliver, not just the advertising. But when it does, it quenches a global thirst to be part of the marketplace of commerce and ideas, instead of looking in from the outside. This is particularly true in educated, largely English-speaking middle classs.
Today, Diageo (the giant, global beverage company) is walking toward India and the acquisition of United Spirits, the country's largest alcoholic drinks firm, with 60 percent of the market. In July, it acquired a 25 percent stake in the company, and it aims to own more than half. Indians consume more whiskey than any other country in the world, and the distribution network Diageo would get with the purchase of United Spirits is akin to a raw materials producer gaining access to internal rail networks or shipping ports. Diageo has also acquired Brazil's Ypioca, the third-largest producer of cachaca, the popular sugar-cane-based spirit that adds the kick to caipirinhas from Sao Paulo to San Diego. It also recently had its eyes on Mexico's Jose Cuervo, the world's top-selling tequila-maker.

China is the big prize, though. There alone the middle class has grown to some 350 million people. According to consulting firm Ernst & Young, by 2030 China could see 1 billion people in the middle class — some 70 percent of its projected population. And they'll be toasting to their success: The market research company Euromonitor International predicts that China alone will contribute 50 percent of the volume growth of the spirits industry in coming years. China is already the world's largest spirits market, followed by Russia and then India, though the South Asian giant will move into the second spot this year, according to industry estimates.
It doesn't hurt that Diageo as brilliant ad creators, as shown in this most brilliant of videos, starring actor Robert Carlyle. Note the impeccable timing of the one shot action.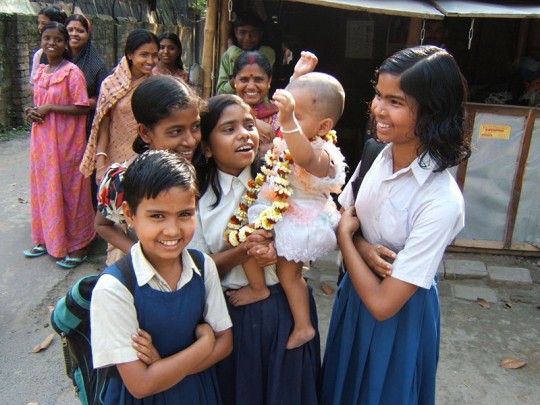 Great column in the New York Times by Manu Joseph on the fallacy of thinking that the poor in India need technology so they can improve their health or their education or the lives of their kids. Maybe they just want a laugh.
Chibaukhera, a village in northern India where electricity has been available only since March of this year, is now under the spell of television. As television sets were much sought-after and prestigious dowries, several houses had them even before they got electricity. Now that the TVs and plugs have finally met, the villagers are hooked on Hindi films and serials about family feuds. In time, they will have incubators, too.

It is not always true that entertainment is the collateral consequence of progress; progress, often, is the collateral benefit of the pursuit of pleasure.
Students of poverty like to think that the first thing the people of a village will do with technology is to educate their kids or buy incubators for infants. We hear a lot of stories of people using cellphones to check market prices so they can get more for their crops. But more likely, they're using cellphones the way any of us do: they're calling their friends and family.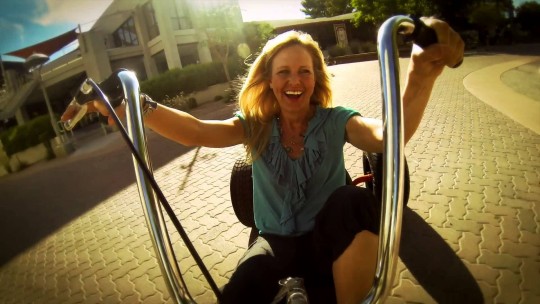 If you're young enough to have had a Big Wheel in your history, there's a great project on Kickstarter: Urbantrike, a Big Wheel for adults. What I like about it is it's a bike you pretty much can't fall off of.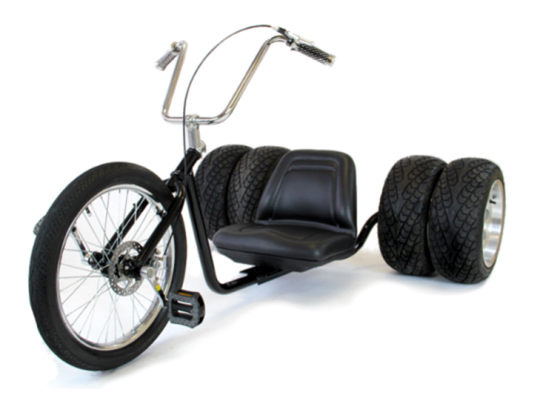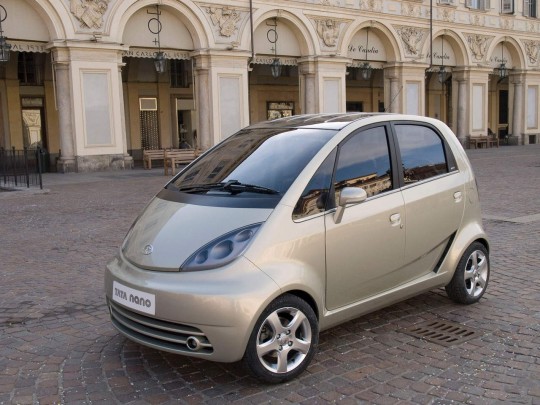 Interesting post by George Black of the National Resources Defense Council on the idea of little cars like the Nano and the Smart for smarter urban transport, quoting me on why sales of the Nano did not match expectations.
Dain Dunston, an American corporate branding guru, had contributed mightily to the mystique of the Nano with a book he co-authored in 2011, Nanovation: How a Little Car Can Teach the World to Think Big and Act Bold. This summer, he wrote what sounded like its epitaph: "The passion to solve a great social problem and the elegance and ingenuity of the solution were no match for not understanding what the customer actually wanted."
Of interest is how he sees Daimler-Benz's Smart car.
The history of this nine-foot-long "ultra-urban" subcompact has been strikingly similar to that of the Nano. The first ones rolled off the production line in 1998, the result of an idiosyncratic partnership between the designer of the hip Swatch wristwatch, Nicolas Hayek, and the engineers at Mercedes Benz. The target was annual sales of 200,000, but like the Nano, the Smart Car never came close to that goal. Its track record has been particularly dismal in the United States. There was a brief blip in 2008, when gas prices rose to $4 a gallon, but since then it's been downhill all the way (currently the price at India's pumps is around $4.35 a gallon). In January 2009, U.S. customers bought 1,776 Smarts; in January 2010, the figure was 278. Daimler's losses on the brand were staggering—more than $5 billion—and just as the Nano's losses were underwritten by sales of Jaguars and Land Rovers to India's new elite (Tata acquired both brands from Ford in 2008), so the Smart's losses were carried by Daimler's luxury cash cow: the Mercedes.
The difference–at least ONE difference–between that Nano and the Smart was that the Nano could hold five people and the Smart, in most versions, just two. Also the Smart was upscale, with prices starting at about $17,000 vs. the Nano's base of $2,100. The Smart was supposed to be greener but there were a lot of other cars out there with lots more room and much, much better gas mileage, such as the Honda Fit, which actually gets better mileage (last time I checked) than a Prius.
But what may be coming are new ways to think about car usage and ownership.
Like many car companies, facing growing evidence that younger consumers are losing interest in buying their products, Daimler is also repositioning itself as an "urban mobility" company rather than just an auto manufacturer. It is pinning many of its hopes on car2go, its car-sharing subsidiary. Car2go, which was pioneered in Austin and Vancouver, offers per-minute and hourly one-way rentals with designated Smart parking spots, and local availability can be checked via a Smartphone app. Car2go plans to expand to 10 cities in North America and more than 40 in Europe in the next three years.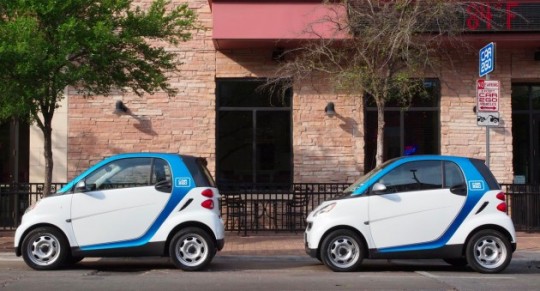 I've seen the Car2Go cars parked around Austin and understood it was a kind of ZipCar thing. I didn't realize it was part of Daimler's new world view. I have friends in Manhattan who use ZipCar quite a bit and seem happy with it. If Car2Go Smarts and Nanos were as nearly ubiquitous in downtown areas and at transportation hubs as buses, I could certainly see using them. Usually, when I'm in New York, Chicago or San Francisco I don't rent a car. In New York, I usually get around on the subway (once I've got from the airport to where I'm staying). But if I was in Manhattan and needed to get across the Hudson to see a client, being able to walk out of my hotel, stick a credit card in the door of a little car and drive out to a client's office in suburban New Jersey would be attractive.
Not much use out here in the country though.
I feel like I need to post an essay on what I've been doing since my last post in July, other than putting on ten pounds and 30,000 air miles. Whatever it was, while it wasn't a vacation it was certainly one of the most interesting summers I've spent in a long while.
It started in the middle of July with a trip to Minneapolis to work with the top leaders in a hotel organization on defining what they want to stand for as a company. Developing a purpose statement is so fun and it was a great experience working with some very bright people.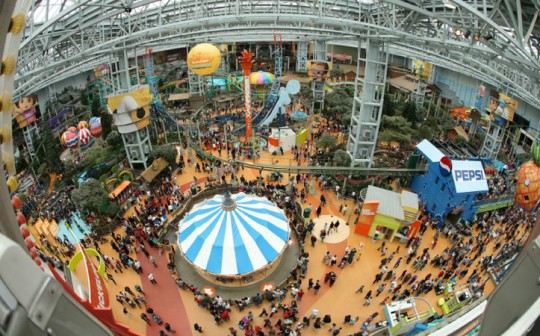 And I got the chance, for the first time, to walk around the world's biggest mall, The Mall of America, the ultimate example of a mall as a theme park. Then, after being completely ignored by a guy in a wine shop, I very happily left and took myself to dinner at the swank new Radisson Aqua hotel.
From there, I flew straight to Dallas for the Mayborn Literary Non-Fiction Conference, where I got to hang out with some of the best writers, thinkers, agents and publishers in the business.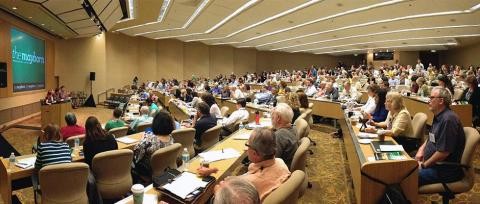 Listening to Hugh Aynesworth talk about the sunny November day he stood, as a young reporter, on the corner across from the Texas School Book Depository and became a witness to history as the President's motorcade drove past. His description of deciding to follow police cars across the river and finding himself in the theater as Lee Harvey Oswald was arrested is something I'll never forget. Also got to hear Susan Orleans (The Orchid Thief, Rin Tin Tin) talk about her writing process and how she researches books. And Jeff Guinn's description of writing his just released biography of Charles Manson (titled Manson) was riveting. A great event and I'm grateful to get to meet some of the industry experts I met.
Next up was conference for one of my favorite companies, CHRISTUS Health. They have hospitals and clinics all across Texas and surrounding states, Mexico and now Chile. We created a wonderful musical opening of video from people all around their system singing What The World Needs Now and ended with a kitchen sink production number with kids, choirs and a rock star singing a medley based on One Love. Yeah, I know, a love fest but nice work.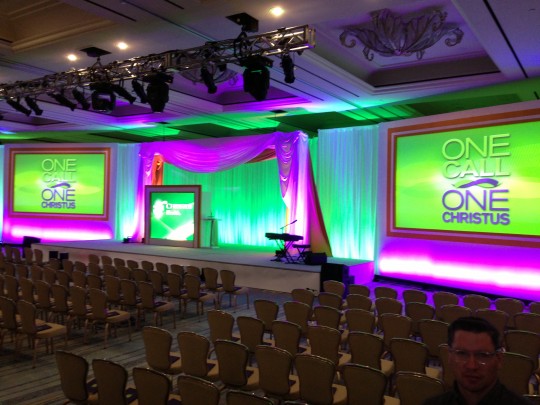 One thing I found particularly interesting was a panel hosted by Susan Dentzer of the Robert Wood Johnson Foundation and other healthcare analysts. I can't remember when I've heard the word 'unsustainable' used so honestly by people discussing their industry and their company. And I'm not sure I've every heard so much alignment between different voices and stakeholders in the health care debate. They all agree that the way things have been structured in U.S. healthcare could not be sustained had not the Affordable Care Act come along. They all agree that the changes will improve healthcare delivery. And they all agree that those who are unable to change will be unable to stay in business. There were a lot of interesting facts: the industry will move away from the current, unworkable fee-for-service model to a model everyone was calling "accountable care." Also, within the decade, hospitals as we know them will become dinosaurs and more and more patient care is moved to the home. We'll have "at-home ICU within the next few years." As several people pointed out, apart from the savings, when you ask people where they think they could recover faster (or die more pleasantly) they'll all tell you "at home."
The afternoon the conference ended, Jean picked me up at the Four Seasons Las Colinas in her truck and trailer and I became a roadie for two weeks, help her set up two folk art shows and an outsider art exhibition. The hours were long and the pay was mostly in wine, which was fine. Santa Fe was great, as always, like this sunset from the bar deck of Rancho Encantado.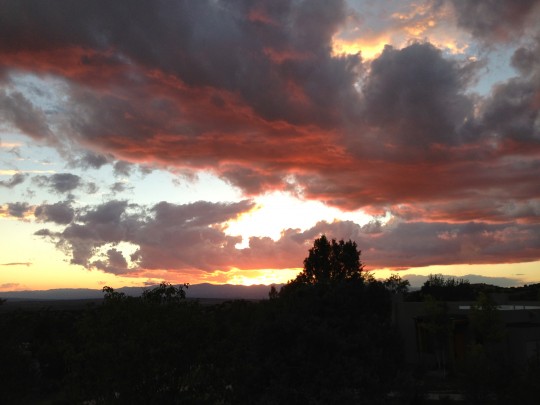 The outsider art was very interesting and very successful. Last year, Jean got a call from a picker who had been to an estate sale in Seattle. An old guy, described by dealers as "mildly retarded," had died and his house was being cleared out. On the driveway, the picker found several boxes of paintings, all unframed and thrown into boxes. Jean took on marketing it and has been curating the work ever since. She was invited to display the work at the Museo Cultural in the Railyard, as part of the Santa Fe Objects of Art show.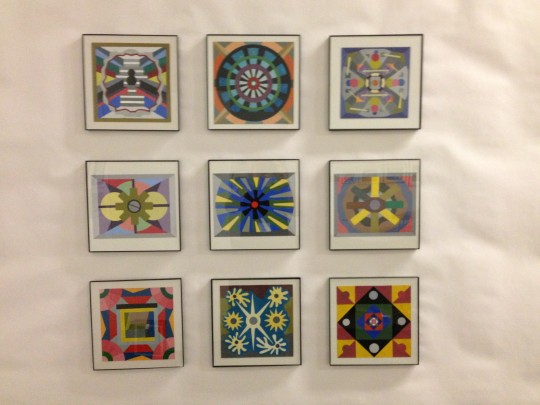 My part was hanging 140 painting, like the set above. Most of them are painted on cereal or kitty litter boxes. Local museum people and other painters were coming in constantly to see the work of Larry John Palsson and the comments were pretty amazing. Next stop for this show is the Los Angeles Art show in January.
While we were in Santa Fe, I got a call from the Jack Morton office in London asking if I could fly to Seoul, South Korea, for a week of speech coaching at Samsung. So we got home at 9:00 on a Thursday night and the next afternoon I was on my way to catch the midnight Korean Air flight out of Los Angeles. I fell asleep on the plane and woke up in Incheon Airport.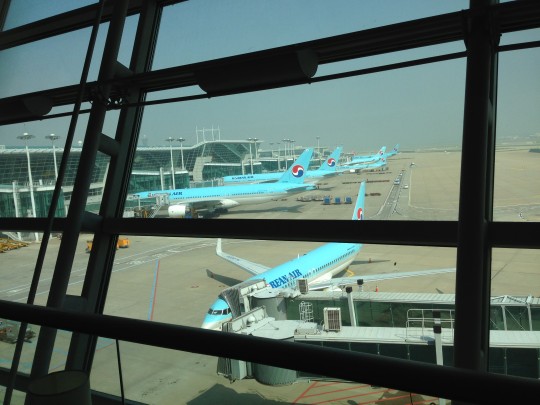 Seoul was amazing, really a beautiful city. I was very excited to get out and about and really wanted to experience Korea they way Koreans do. You know, go where they go, do what they do, and eat what they eat. After a while I had to accept that Koreans eat … pizza. Pretty much, it was like being in Los Angeles.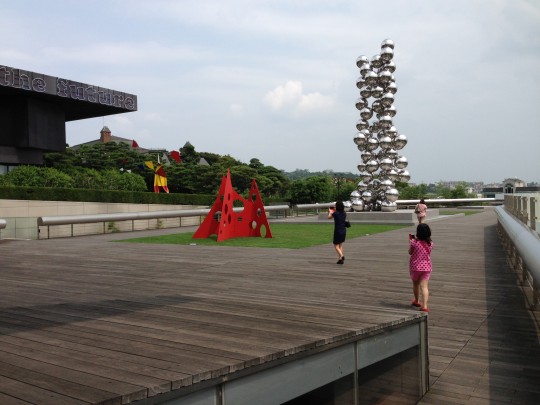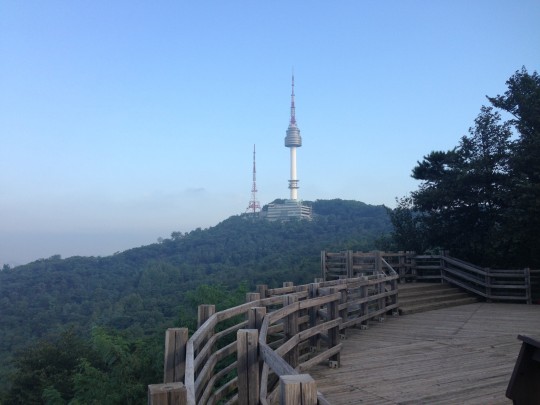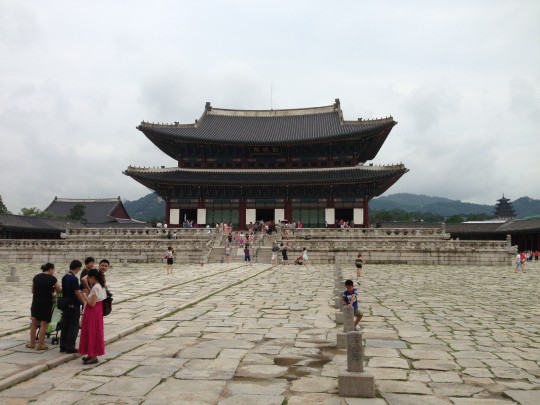 (Photos, top to bottom: The Samsung Art Museum in Itaewon; The Seoul Tower on top of the mountain in Namsun Park, Seoul's Central Park; the view from half way up; the Palace, rebuilt from rubble after the War.)
I had a great time working with some very bright people, particularly David Park, in Marketing, who was part of a huge product reveal in Berlin last week. We mostly worked at Samsung's ad agency, Cheil, where Soyoun Kim and Banya Kim (no relation, there are only about five last names in all of Korea) took care of me. When Banya found out there was an American writer in the house, he put me to work. Below, my friend David on stage in Berlin.

Had a great time running in Seoul every morning. Every day at dawn, I took off and tried to run to the top of Namsun Park. I don't think it's physically possible (there are parts so steep that people walk up backwards) but I ran the parts I could and then ran back down. And I finally got some great Korean food.
I got back to the States after a 15 hour flight and about two hours of sleep and then turned around and Jean and I flew to Bend, Oregon for my son Mic's wedding. We cooked dinner for 20 people our first night there, hung out with every single living relative I have, decorated the wedding pergola and then danced all night. Below, Mic and Molly share their vows. At bottom, Mic (center) at the final event, His and Her Rugby Teams.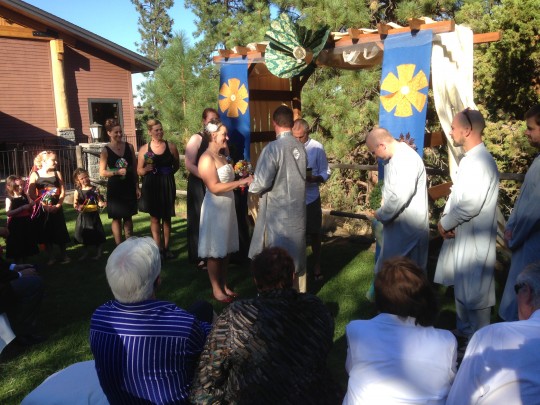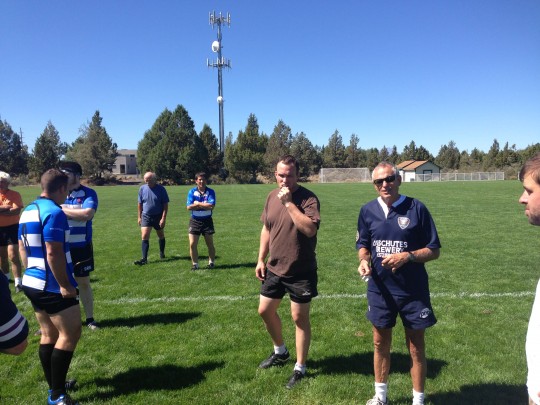 So it was a great summer and now I'm back in the saddle. But as my friend Phil Gerbyshak points out, if I'd kept up with my tweeting and blogging, I wouldn't have had to write this essay. And now you know what I did last summer.