Archive for June, 2012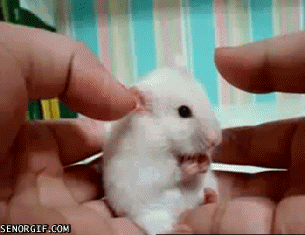 This hamster is really surprised to see you here.
You know, given everything you said you had to get done today.
More at Buzzfeed.
The Henry J was the little American car that, well, couldn't.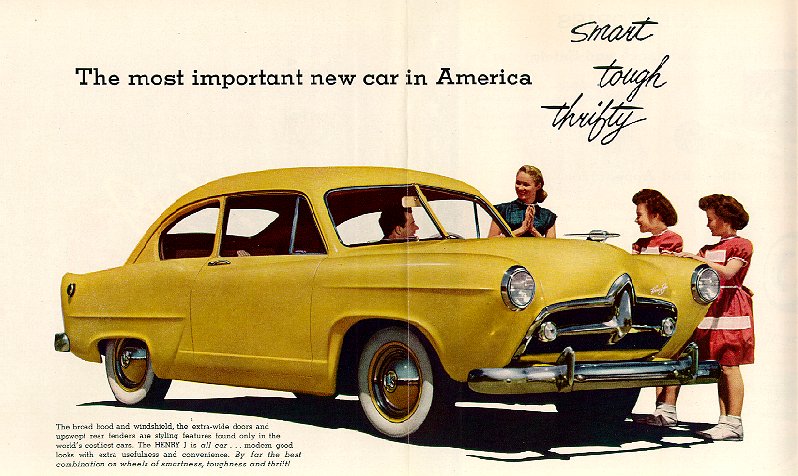 Conceived as post-war Model T, the Henry J was supposed to be a model of efficiency and low cost manufacturing. In a way, it shared many qualities with today's Nano. It was designed without a rear hatch, boot or trunk. Like the Nano, you accessed the storage area by folding down the rear seat. Like the Nano, it was remarkably fuel-efficient, delivering 30 miles to the gallon. No passenger mirror, glove box or sun visor, but plenty of room for a real family. And it was launched at a time when America supposedly needed a cheap, small car everyone could afford.
And it failed.
Why? Well, for a start, it was designed without a passion for the customer or with a real customer need in mind. In fact, it was part of a mandate from the U.S. government in return for a loan from the Reconstruction Finance Corp. Founded in 1945, Kaiser-Frazer was the only post-war U.S. manufacturer to survive even a few years of business. By 1949, they were desperate for funds to keep their doors open long enough for the economy to turn around or for the world to develop a taste for their, well, unusually styled products, whichever came first.
And so, to get their hands on the cash, they agreed to build a car that could seat five adults, cruise at 50 miles per hour and sell for $1300. And it had to be available for sale no later than September 30, 1950. That gave the company about a year to develop the car.
Kaiser engineers made it happen, but nobody much cared. The styling was odd and the limitations made the car unattractive. Chevrolet and Ford offered cars that didn't cost much more but were roomier and had "real" car features like rear windows that opened and a trunk lid. And while the Henry J was more efficient, gasoline was so cheap that it wasn't much of a selling point.
The Henry J was an apology car and everyone knew it.
It wasn't innovative. It was just cheap and embarrassing. Sales declined every year and by 1952, the company was reduced to selling them through the Sears catalog, rebadged as the Allstate. It was also sold in Japan for a few years by Mitsubishi. And then it was gone.
Ironically, in later years, it became a favorite with hot-rodders, who could pick up a used Henry J for next to nothing, drop a big V8 engine in it and drive it to the drag-strip, where the light frame and body made it a contender. And if it was fast, nobody much cared how it looked.
The legendary rock musician Frank Zappa, whose family was one of the few that bought one, remembered the misery of a cross-country trip on the rear bench seat of a Henry J. He called it "the ironing board from Hell." For struggling young families, the car may have been a necessity but it was far from being the mother of invention.
Here's a great article from the BBC on proposals for high-speed travel using mag-lev capsules traveling in vacuum tubes across the country or beneath the ocean — at speeds up to 2,500 miles per hour. The original theoretical work goes back generations and the environmental effects are huge, with the fuel usage being far below a what even the most fuel efficient trains of today can deliver.
Daryl Oster (who holds the patent on one promising system) believes we could be using ETT for world travel in less than 10 years, with the most attractive routes between major cities. Ideally these would be separated by dry, flat, unpopulated terrain, where the ground doesn't freeze. He believes India and China are currently the most promising looking places for what he modestly calls "space travel on Earth".
Imagine being able to go from San Francisco to New York in less than 45 minutes, or from Dallas to Mumbai in a couple of hours. And this isn't just science fiction. A Florida company called ET3 has already sold six licenses to China and other countries, who are exploring putting the idea into production.
We can learn a lot about innovation from great comics, particularly those who come from the discipline of improvisation. There's a great interview with Bill Murray in this month's Esquire.
Money quote:
You gotta commit. You've gotta go out there and improvise and you've gotta be completely unafraid to die. You've got to be able to take a chance to die. And you have to die lots. You have to die all the time. You're goin' out there with just a whisper of an idea. The fear will make you clench up. That's the fear of dying. When you start and the first few lines don't grab and people are going like, "What's this? I'm not laughing and I'm not interested," then you just put your arms out like this and open way up and that allows your stuff to go out.
It's the same when you face a blank page; the same when you have to solve a problem everyone says can't be solved. Will you be a fool for trying or will you change the world? Will you spend your life playing it safe or will you go for greatness?