Archive for September, 2011
Southwest Airlines, about which my co-authors Kevin and Jackie wrote so brilliantly, gets all the great customer service stories and American gets far fewer, so when there's a great story, it's a pleasure to share it.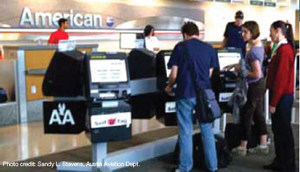 Returning from a trip on American last week, I was just pulling out of the parking lot in Austin when my phone rang. "Mr. Dunston, this is Barb with American. Did you leave an object on the plane?"
A sudden realization: "My iPad!"
"Where are you?"
I told her.
"Well, let me go to the gate and get it. I'll call you when I have it."
I circled the airport once and then pulled up in front of the American doors. My phone rang, I told her where I was and a moment later, here comes Barb with my iPad. She said she liked my car and that her husband had one just like it.
"His is a turbo!"
So cudos to Barb and to American for that kind of concern for a customer. Other places they might have sent me an e-mail with a number to call a day later. But she treated a customer they way she would have wanted to be treated and it showed. Thanks, Barb.
I'm seeing lots of articles with tips on how to "black-swan" proof your portfolio, to which I say, "Good luck." To quote the leadership gurus at Monty Python, "No one expects the Spanish Inquisition."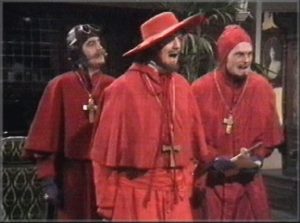 However, if you're going to look to anyone for advice on how to avoid black swans, I suppose you should look to Nassim Nicholas Taleb who coined the phrase. He offers some interesting advice in this older, 2009 article in Financial Times. His points are clever and thought-provoking, focused mostly on the economic collapse of 2008-2009 and our attempts to recover from that event.
Three favorites:
What is fragile should should break early while it is still small. (Or, as Kevin, Jackie and I like to say, "Risk more, fail faster and bounce back stronger.") Don't let anything get too big to fail. Kill it before it eats Cleveland.
People who were driving a school bus blindfolded (and crashed it) should never be given a new bus. If the baby sitter let your kids get drunk last weekend, why are you having her back this weekend? Same thing with Wall Street. Why are the same people running the store?
Do not give children sticks of dynamite, even if they come with a warning. Three years on, have we really made our financial markets safer? I'm not so sure that those who made personal fortunes betting on the ponies that galloped us into the burning stable are doing anything different than they did before or, in fact, think they did anything wrong. So good luck to the rest of us who depend on bankers to be sober as judges.
When I was taught to drive (by the legendary "Crash" McClain), I was taught to watch out of the other driver and to assume they were all going to do crazy things; to watch what was a coming a long, long way down the road; and to always have an escape route planned. The same goes in our world today: if you see a black swan coming at you, try not to hit it head on. Just be prepared to drive around it and keep going.
Chef Alice Waters founded the landmark American restaurant Chez Panisse forty years ago and, in doing so, created a revolution in culinary culture that swept the world. In her new book, 40 Years of Chez Panisse: The Power of Gathering, Waters talks about a question she puts to everyone who applies to cook in her restaurant: "What do you like to cook for yourself?"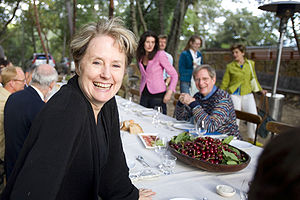 My days of thinking I would like to work in a restaurant are far behind me, but my love of cooking is an everyday presence. My first answer, throwing caution and concern for my waistline to the wind, would be a perfect bowl of vanilla ice cream, served at just the right temperature, elegant and complete in itself. My second would be something like a bowl of yellow rice with Andouille sausage sautéed in good olive oil and drizzled on top of the rice, elemental and pure. I don't know what that would tell Alice Waters about me, but I know it would give her plenty to coach me on.
In a similar fashion, one question I ask leaders who want to build a great company culture is this: "What was the best job you ever had when you were young and why did you love it so much?" I ask the question because the answer can help me understand what lights them up and what kind of culture they could authentically create and lead.
Here's an example: In a recent session with a team creating a new division in an older company, one leader talked about the six years in high school and college when he worked before and after school in his local golf course pro shop. His description of the work was electrifying and everyone could feel it: the way each day offered its own challenges of wind and weather; the way they focused on providing the best possible experience for their customers; managing the pace of play which sometimes meant managing the customers themselves; helping people improve their game without seeming to criticize the way they played; building a team of enthusiasts who couldn't wait to get to work in the morning and could seem to break away at the end of the day.
Today this leader and his colleagues are about to launch a game-changing medical product that has the possibility to change the world, and the lives of their customers, in important ways. What would it be like to lead a company that could attack the market the same way that team of golf pros once attacked each morning's line up of tee times? How can they create that in the framework of the giant corporation of which they are part?
Asking the question of what kind of cultural experience lit them up in the past is our signpost for the direction we're helping them head now.