Archive for July, 2011
Innovation is hard. Innovation means change. We have to build a culture that embraces change, a culture that is literally hungry for it. Because when you have a workforce that resists change, you know what you get?
You get the Titanic.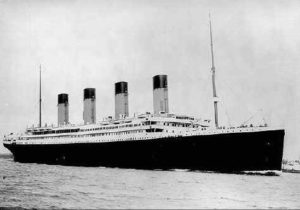 The Titanic was one of the most innovative products of its time and we all know how far that got them … because they didn't have the culture to understand how to make use of the innovation. In fact, the crew of the Titanic IGNORED the innovations. They refused to use them. They left the doors of the watertight bulkheads open so that when the ship hit the iceberg, the water rushed through them. The guys at the home office of White Star Lines? Real innovative guys. But they didn't know how to build a culture of innovation.
Did you know the Titanic had two sister ships? She did, the Britannic and the Olympic.
And after the Titanic sank they went, hey, we gotta learn a lesson from this. So they made sure they had enough lifeboats for everyone. And sure enough, four years after the Titanic went down, Britannic struck a mine and sank. This time, they had enough life boats to get everyone off, so that's good. But, just like the Titanic, they still hadn't closed up the doors in the watertight bulkheads, so the great innovation that was supposed to keep her from sinking still didn't work.
That is SERIOUSLY resistant to change.
But with Olympic, they learned. Olympic went on to hit both a German submarine and the Nantucket lightship. But because they learned the lesson of the watertight bulkheads, she didn't sink and was able to get back to port both times.
But you know what? They still missed the most important lesson of all … DON'T HIT STUFF!!!
Great cultures institutionalize what they learn so they don't have to KEEP learning hard lessons over and over. It's like steaming against the tide, you have to keep the momentum so you don't slide back onto the rocks.
Infant mortality is a big problem in the world's poorest nations. Lack of clean water, lack of sanitation and a lack of access to either health education or medical care make it hard for new borns (or even worse, premies) with problems to survive. But say you run a hospital in a city and an NGO gets you an advanced neo-natal incubator: great, it works for a year, but when something goes wrong with it technically, who are you going to call? All around the world, infants lucky enough to make it to a competent hospital die within yards of an incubator that could have saved their lives but for a part costing pennies.
, a think tank devoted to bringing the power of innovative — Nanovative to the solving of problems in developing nations, decided to take a look. Reasoning that an African hospital had no access to high-tech repair services, they asked what kind of technical expertise they did have access to. They found the answer in the streets: used cars.
People in emerging nations have deep resources in keeping old cars going, so Design That Matters developed a neo-natal incubator created entirely of readily available car parts. The heat source is car headlights, the fan is from a car as are the electronics and switching. When it stops working, call your local shade-tree mechanic and you'll be back in business.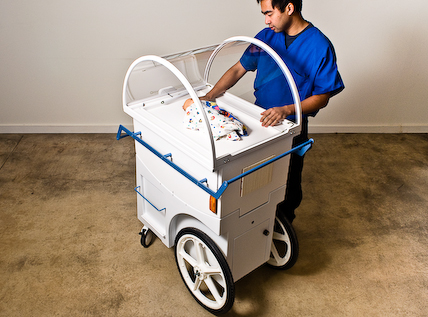 DTM says the key is defining the problem. In this case, helpful hearts might have spent billions organizing logistics to supply parts and technical expertise to hospitals. DTM focused on creating a product that covered most (but not all of the needs), that was cost effective and easily serviced with parts and labor available in any town in the world.
What problems are you trying solve with dollars that could be better served with simplicity?
At Weiden + Kennedy, creators of Nike's famous Just Do It campaign, they have a wall created from 100,000 clear pushpins pressed into white that spell out the words, "Fail Harder." Kennedy explains, "They took the hard way, they could have spelled the word with a lot fewer push pins, instead they filled the negative space. It was harder and that's why it's brilliant."
It's like Michael Jordon going for a game-winning shot and missing. At least it was a spectacular shot. Take enough spectacular shots and you win. Think about where you "fail safe," where you plan for soft landings rather than imagine spectacular take offs. Go ahead, take the leap. Remember, sometimes it takes the light of a burning bridge to show the way ahead.